Lugar : Auditorios: Ing. René Mario Montante / Dr. Raúl G. Quintero Flores

Fecha : 06/09/2019 17:00

Expositor : RAMON LAMAS MARTINEZ

Asesor : Dr. Rafael Colas Ortiz

Co-Asesor :

Moderador :

Título de la conferencia : Efecto de la adición de metales de transición en aleaciones de colada de aluminio

Resumen : En el presente trabajo se analizan aleaciones de aluminio que se utilizan para la fabricación de componentes de motores automotrices, como son los cabezales. Estos componentes se someten a altos niveles de esfuerzo termo-mecánico de los cuales la más importante parece ser la fatiga térmica en las cámaras de combustión y la fatiga mecánica en las zonas del conducto de agua. Es por lo anterior que se consideramos de gran impacto el desarrollo de este trabajo que consiste en evaluar el comportamiento de las propiedades mecánicas de las aleaciones a temperatura ambiente, así como a 250 °C y 300°C y de esta manera entender mejor su comportamiento en componentes sometidos a altas temperaturas. Se analizarán las aleaciones; Al-5Cu-X (Ti-V-Zr), Al-(7-10)Si-4Cu-X(Ti-V-Zr), Al-10Si-5Cu-0.2Ni-X (Ti-V-Zr), esto con la finalidad de mejorar la respuesta al tratamiento térmico y su comportamiento mecánico a temperatura ambiente y a alta temperatura lo que permite el uso de esta aleación en cabezales de cilindro de motores que trabajan a altas temperaturas y esfuerzos mayores. Se aplicará un tratamiento térmico T7 en las aleaciones producidas y se determinara su resistencia mecánica a temperatura ambiente y a alta temperatura, aplicando previamente un calentamiento a 250°C y 300°C, respectivamente, durante 100 horas, luego se realizarán pruebas de compresión a 250°C y 300°C, metalografía óptica, difracción de rayos X, microscopia óptica de barrido y dureza.

Imagen :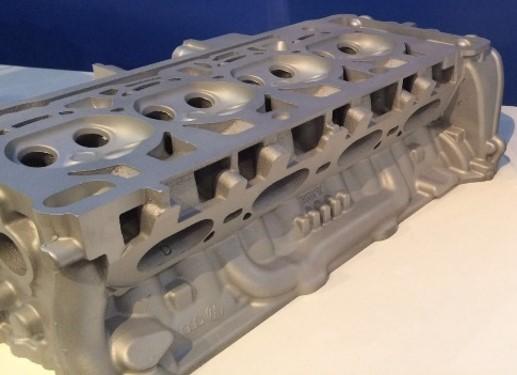 cabezal de motor.jpg
Title of the conference :
Effect of the addition of transition metals in aluminum casting alloys
Summary :
In this work we analyze aluminum alloys that are used for the manufacture of automotive engine components, such as the heads. These components are sometimes high levels of thermo-mechanical stress, the most important of which seems to be thermal fatigue in combustion chambers and mechanical fatigue in areas of the water conduit. It is for this reason that the development of this work is considered of great impact, which consists in evaluating the behavior of the mechanical properties of the alloys at room temperature, as well as at 250 °C and 300 °C and thus better understand their behavior in components sometimes high temperatures. The alloys will be analyzed; Al-5Cu-X(Ti-V-Zr), Al-(7-10) Si-4Cu-X(Ti-V-Zr), Al-10Si-5Cu-0.2Ni-X(Ti-V-Zr), this with the intention of improving the response to heat treatment and its mechanical behavior at room temperature and high temperature which allows the use of this alloy in cylinder heads of engines that handle high temperatures and greater efforts. A T7 heat treatment will be applied to the alloys produced and its mechanical resistance will be determined at room temperature and high temperature, previously applying a heating at 250°C and 300°C, respectively, for 100 hours, then compression tests at 250°C and 300°C, optical metallography, X-ray diffraction, scanning optical microscopy and hardness.