Lugar : Auditorios: Ing. René Mario Montante / Dr. Raúl G. Quintero Flores

Fecha : 08/11/2019 17:00

Expositor : ESDUARDO RAFAEL SILVESTRE DE LEON

Asesor : Dra. Beatriz Lopez Walle

Co-Asesor :

Moderador :

Título de la conferencia : Caracterización del comportamiento eléctrico bajo campos eléctricos altos de materiales híbridos poliméricos de EC-Fe2O3 y PVB-Fe2O3

Resumen : Debido al avance de la tecnología, la necesidad de materiales multifuncionales se ha incrementado. Los materiales nanocompósitos poliméricos basados en nanopartículas de óxidos metálicos se presentan como una solución adecuada para resolver estas necesidades, ya que estos materiales presentan diversas propiedades interesantes y funcionales. En los últimos años se ha hecho un gran énfasis en el desarrollo de materiales nanocompósitos poliméricos para aplicaciones dieléctricas. En este trabajo de tesis se pretende realizar la caracterización eléctrica de materiales sintetizados en el grupo de investigación "Síntesis y caracterización de materiales" de la FIME, basados en polivinil butiral con nanopartículas de óxido de hierro (PVB-Fe2O3) y etil celulosa con nanopartículas de óxido de hierro (EC- Fe2O3). Existen muy pocas referencias de la caracterización eléctrica de este tipo de materiales y se centran principalmente cuando se aplican campos eléctricos bajos. Por lo tanto, se ve necesario realizar una caracterización eléctrica bajo campos eléctricos altos con el fin de poder usar estos materiales como aislantes eléctricos.

Imagen :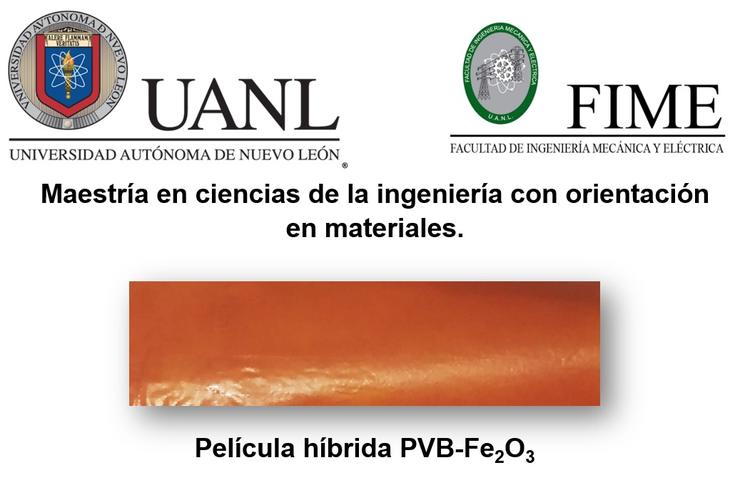 Seminario.jpg
Title of the conference :
Characterization of electrical behavior under high electric fields of polymeric hybrid materials of EC-Fe2O3 and PVB-Fe2O3
Summary :
Because of the advancement of technology, the need for multifunctional materials has increased. Polymeric nanocomposite materials based on oxide nanoparticles are presented as a suitable solution to meet these needs, since these materials have various interesting and functional properties. In recent years, there has been a great emphasis on the development of polymeric nanocomposite materials for dielectric applications. This thesis work is intended to perform an electrical characterization of materials synthesized in the research group "Synthesis and characterization of materials" of the FIME, based on polyvinyl butyral with iron oxide nanoparticles (PVB-Fe2O3) and ethyl cellulose with nanoparticles of iron oxide (EC-Fe2O3). There are very few references of the electrical characterization of this type of materials and they are focused on its behavior under low electric fields. Therefore, it is necessary to perform an electrical characterization under high electrical fields, in order to be able to use them as electrical insulators.